SPELLMAKER.COM

BASICS:

CASTING SERVICE:

OUR PRODUCTS:

INFO / FAQS:

MISCELLANEOUS: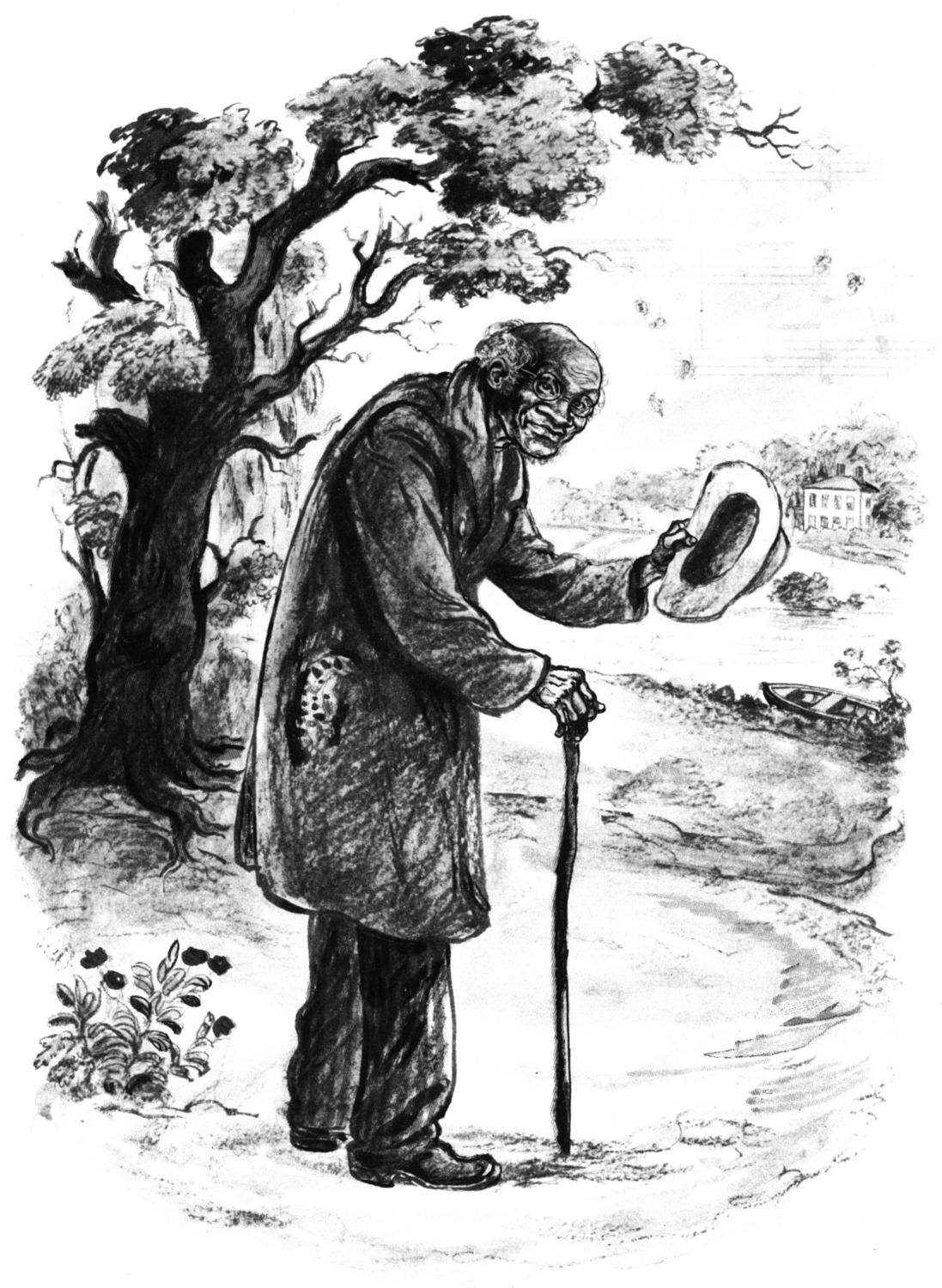 One of the most cherished New Orleans Voodoo and Haitian Vodou spirits (Les Lois, The Lwa), Papa Alegba comes to us in many forms: He comes as an old man with a cane, a young child fascinated with toys, or a strong young man sent to help us find our way! He is the keeper of the crossroads, the gatekeeper, our window to gazing between our physical world and the spiritual world with which we hope to connect. <>
Atibon Legba, louvre port-la pou mwen!
(Little good Legba, open the door for me!)
The words above, the opening line to probably the most popular song dedicated to Papa Alegba, sings of the need we have to enter the spiritual realm or allow the spirits to come to us. In ritual, service, and spell work, as Vodouisants, we must first get the permission of Papa Alegba to speak to the other spirits we may need to help us. Fluent in all languages and dialects, Papa can always hear us, understand us, and allow us to communicate our needs to the spiritual world.
Because we so often call upon Papa Alegba to help us with our communication with other lwa, we might almost forget to call upon his own great abilities to help us. Have a path that seems blocked to you? Doors won't open for you? Having troubling making someone you love understand what you want? Stuck at your own crossroads of life and don't know which way to turn? Our dear Papa is there for that and so much more! Few other lwa can offer as much comfort and understanding as Papa. His shoulder is there for us to cry upon; his arms welcome those who need safe haven. Few things are as satisfying spiritually as spending an evening doing a great service to Papa Alegba!
We have put together a wonderful Ritual and Service package dedicated to Papa. This package not only includes instructions for a full authentic ritual, but also includes candles, special oil and incense developed on the point of and under the direction of Papa Alegba through Mambo Sam, veve, picture, and a number of unique and wonderful sacred items that have been dedicated and consecrated to Papa. Once you have this, you can do the ritual to Papa over and over again! There will be no need to purchase this package again. The ritual will be yours to use and you need only replace the oil, incense, and candles as needed! (There is a very generous amount of oil and incense included, so you shouldn't have to replace it too often.)
We are offering this package in two versions. The difference in the two versions is that "Version B" also includes the wonderful Papa Alegba's Clear Path™ bath which may be used before or after the actual ritual itself is done. Both Version A and Version B contain special consecrated items for the ritual as well as ritual instructions.
We are also excited to offer you the Open Door™ incense and Papa Alegba's Gatekey™ oil for purchase separately! We are happy to offer these special, one-of-a-kind items to you. These items are exclusive to Spellmaker and are not available anywhere else. Please see below for purchase of any of our specialty items developed and consecrated under the guidance of and on the point of Papa Alegba.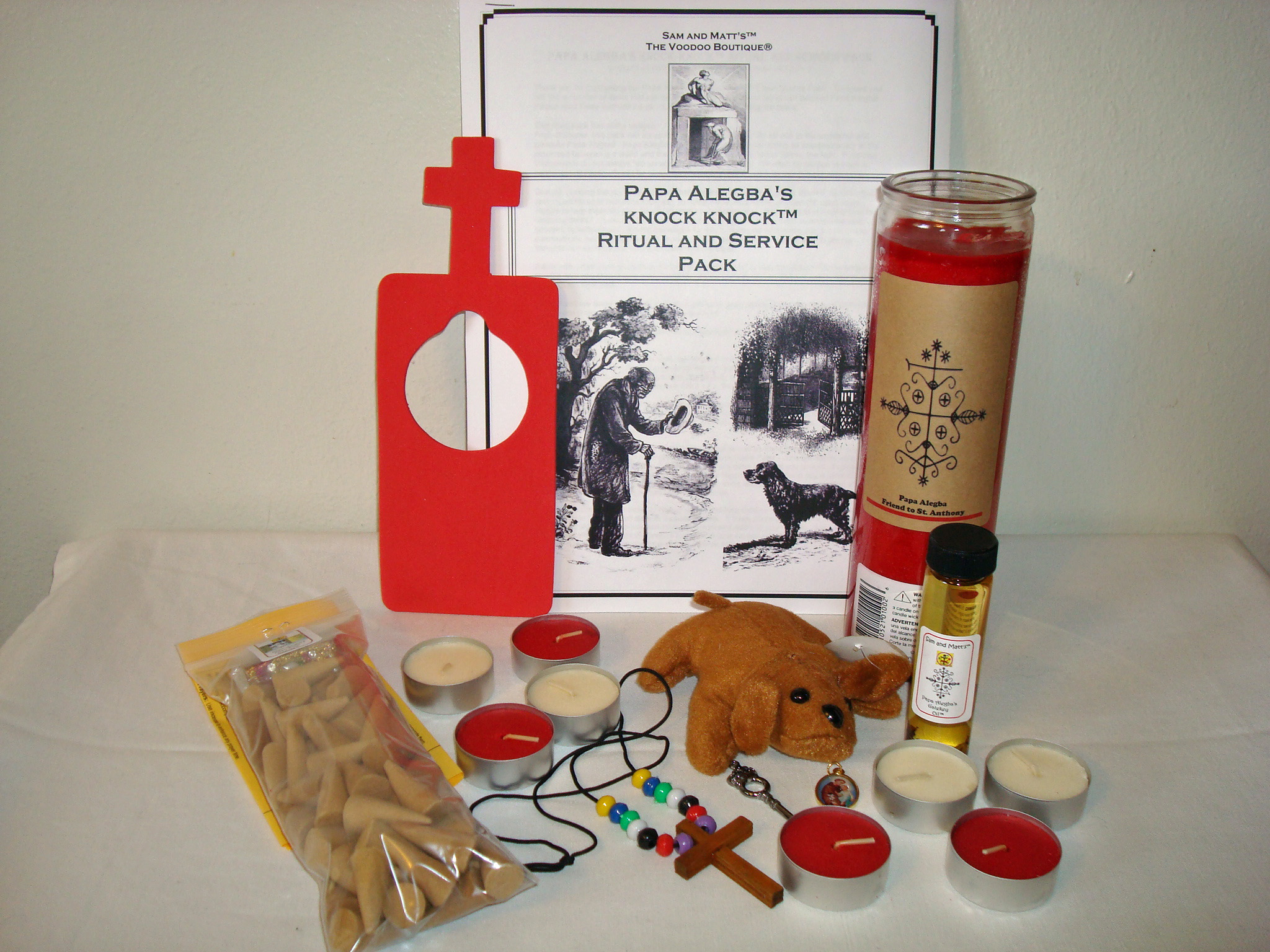 Papa's Ritual Pack A - includes the kit above.
Papa Alegba's Knock-Knock™ Ritual Pack A includes:

9 day candle dedicated to Papa Alegba and Saint Anthony
Veve for Papa
Picture of St. Anthony
Red and White Candles
Special Open Door™ Incense
Special Papa Alegba's Gatekey™ Oil
Several other special items dedicated to Papa Alegba (These are items you will keep and use for Papa.)




---


Papa's Ritual Pack B includes BOTH kits - the ritual kit and the bath kit!


Papa Alegba's Knock-Knock™ Ritual Pack B includes:

9 day candle dedicated to Papa Alegba and Saint Anthony
Veve for Papa
Picture of St. Anthony
Red and White Candles
Special Open Door™ Incense
Special Papa Alegba's Gatekey™ Oil
Several other special items dedicated to Papa Alegba (These are items you will keep and use for Papa.)
Papa Alegba's CLEAR PATH™ Red and White Bath !

---


Papa's Ritual Bath Kit

Papa Alegba's Clear Path™ Red and White Bath Kit

Based on the traditional Haitian Vodou formula, this bath calls upon the spirit of the beloved lwa Papa Alegba. This bath kit is designed to:


Help you clear the path to your goals.
Make a difficult decision.
Receive guidance and wisdom from Papa Alegba.
Bring clarity and peace to a situation.
Enhance your relationship with the Vodou spirits.
Great for beginning or wrapping up spell work.
Return something/someone you have lost.
Enhance communication with someone.
Make yourself heard.
Honor Papa Alegba.
Much more: This kit in particular has so many uses due to the fact that Papa Alegba, of course, is our link to the spiritual world. Therefore, you can customize the usage of this kit in many ways.


---

Papa Alegba's Incense and Oil Package:
This includes one bag (over 30 cones) of Papa's Open Door™ Incense and one large bottle of Papa's Gatekey™ Oil(the same bag and bottle that comes with the ritual pack). This incense and oil can be used with the ritual from the Papa Alegba pack or on its own (oil and incense come with their own instructions):


---

Papa Alegba's Gatekey™ Oil:
This is the large bottle of Papa Alegba's Gatekey™ Oil(the same bottle that comes with the ritual pack). This oil can be used with the ritual from the Papa Alegba pack or on its own:


---

Papa Alegba's Open Door™ Incense:
This is the large bag of Papa Alegba's Open Door™ Incense(the same large 4 oz. bag that comes with the ritual pack). This incense can be used with the ritual from the Ogoun pack or on its own:

---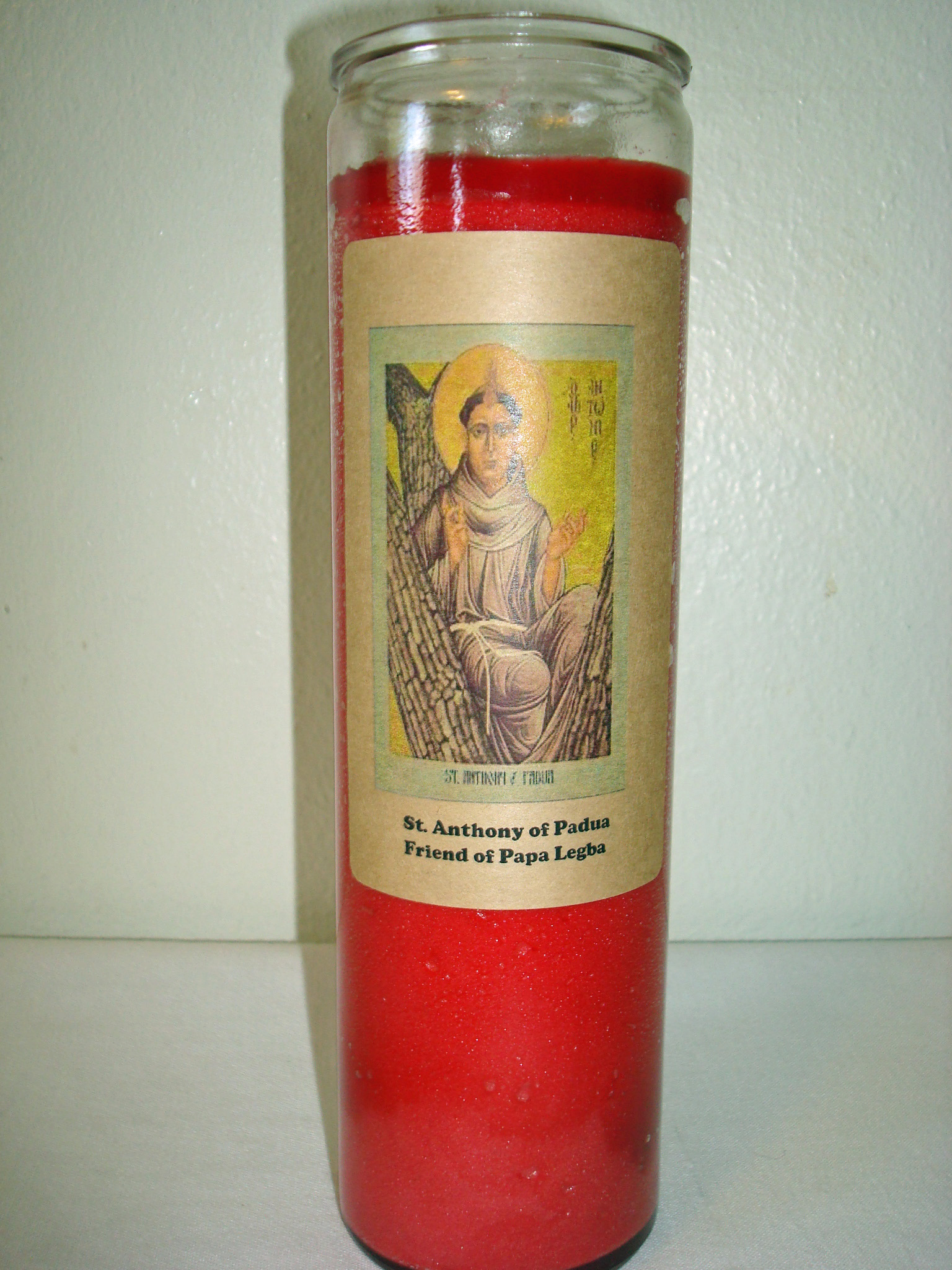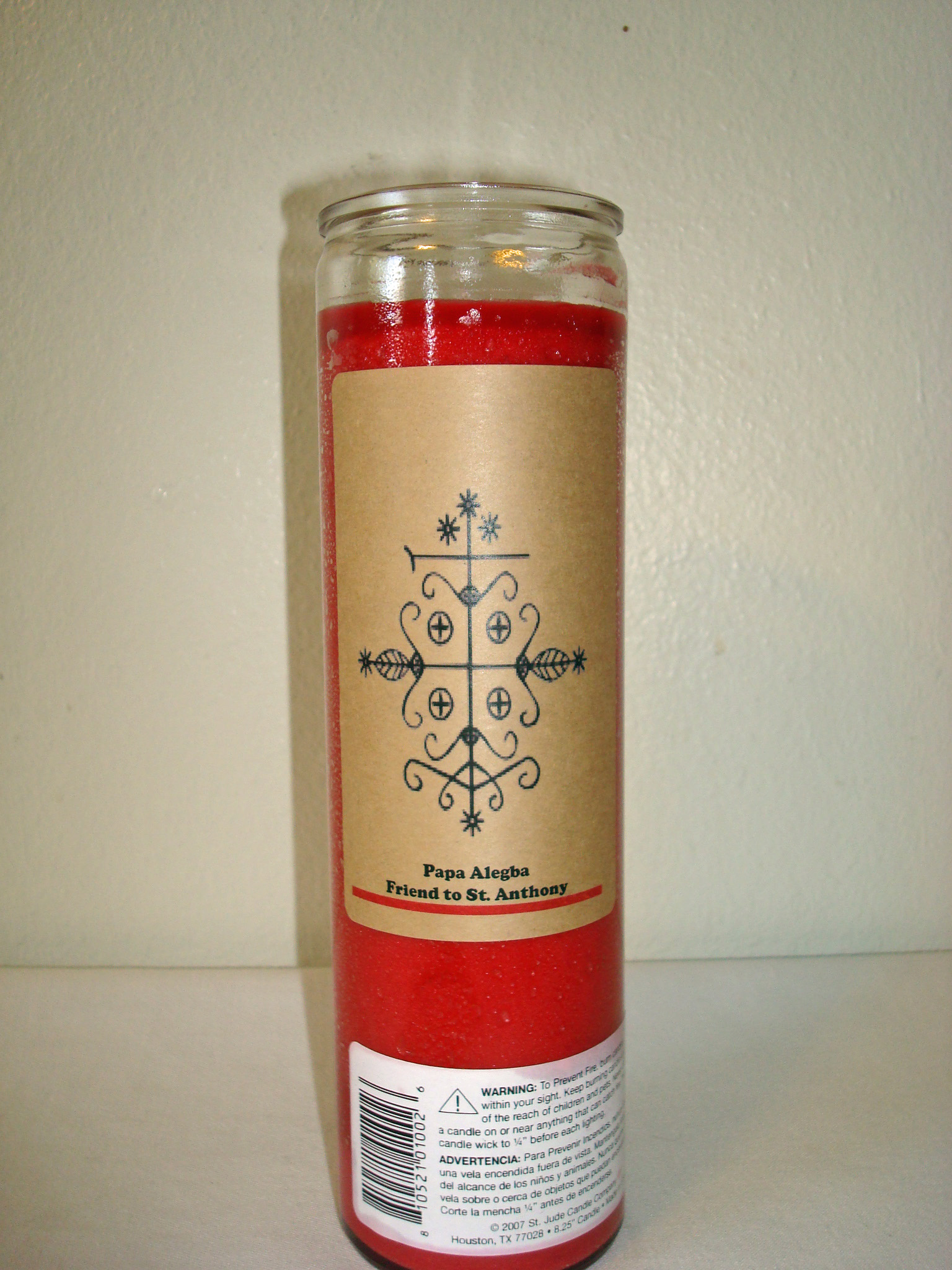 Front and back view of the Papa Legba/St. Anthony Candle.

Large candle to Papa Legba and St. Anthony
This is the large candle in glass that comes in the ritual kit - consecrated to both Papa Legba and St. Anthony:

---
Papa Alegba Quick Facts
Day: Monday
Colors: Red, White, and Black
Syncretized Saints: Saint Anthony of Padua (especially in New Orleans Voodoo), Nino de Atocha, Saint Lazarus, Saint Peter
Feast Day: June 13 in New Orleans Voodoo - other Saints as per above on their Feast Days
Speaks and understands all languages. Master communicator.
Gives (or denies) us permission to communicate with the other lwa.
Opens and closes the gate or door between our world and the spirit world.
He is all ages and yet is ageless and thus is represented in many different "stages" of life.
Loves toys!
Dogs are sacred to him.
Finds lost items.
Loves jokes, pranks, and tricks, but never to harm anyone.
Common Offerings: Candy, small toys, keys (keep your old keys for him),red beans and rice, pipe tobacco and a pipe, a straw bag, a cane, rum, coconut, plantains, whiskey, corn, playing cards (especially in New Orleans Voodoo), Louisiana Hot Sauce® (especially in New Orleans Voodoo).

We always conduct our free triple rituals to Papa Alegba throughout the month of June at the Spellmaker offices! The three main rituals will be conducted on the feast days of the three saints with which Papa is syncretized. These three feast days all fall in June, thus our proclamation of June as Papa Alegba Month at Spellmaker! (June 13-Saint Anthony,June 21-Saint Lazarus,June 29-St. Peter) We encourage you to send in a letter with your petitions that you would like to be included in the rituals for Papa Alegba. As an added bonus this year, we are doing a free online ritual in which you may participate! Please see www.spellmaker.com/prayer.htm for details on how to join in on this fun and amazing ritual!

When writing your letter, please be sure that you are writing the letter to Papa Alegba himself, and be sure that your letter is appropriate. For example, you would NOT write to Papa Alegba asking, "Please make Johnny love me." However, if yours is a love case you could ask Papa to "Please open communication between Johnny and I so that he can see the love in my heart." The difference is subtle, but important. You could also ask Papa to remove blockages and clear the path between you and the one you love.

If you do not have a love situation, you could ask that Papa open the gate and clear the path to any goal that you have in mind. You can ask for anything, but to be most effective, try to be sure that what you are asking is within the scope of Papa! Maybe you need more fun in your life; maybe you need to communicate more effectively; maybe you feel like all doors have been locked to you!

To be included in these rituals, please email your petition to papalegba@spellmaker.com. There is no charge at all to be included in these rituals and you do not need to purchase anything at all. If you do have or will be getting the Papa Alegba Knock-Knock™ Ritual Kit, or any of the other products, using them on the days we are doing the rituals will maximize their effectiveness for you! You certainly could just light some candles and use Papa's oil and incense or take the Papa Alegba Clear Path™ Red and White bath. Anything you can do on those days, or any days in June, will be helpful in realizing your petitions. We have decided not to do a special ritual pack for this ritual because we already have specialized products for Papa that you can use during our ritual days. Please see below a small ritual that you can do if you don't have the Papa Alegba Knock Knock™ Ritual pack and/or cannot afford to purchase it right now. Money, or the lack of it, hopefully will not prevent you from participating!

As always, these rituals that we do periodically are absolutely free. However, during the last two times that we did these free rituals, several people asked if they could donate a little money towards the ritual supplies, etc., even though they didn't want to particularly purchase anything at that time. It was suggested to us to put a donation button for those who just wanted to help cover the costs of rituals. So, we have included a donation button below. Please understand, though, that no donation is necessary and everyone is given equal attention during the rituals with no preference given to those who donate or purchase. While we certainly appreciate any donations or purchases, these free rituals are meant for all who desire, regardless of financial means, to be included in these special petitions! Therefore the button is meant only for those who desire to contribute towards the cost of the ritual.

Again, these rituals will be ongoing through June. The sooner you get your petition letter in to papalegba@spellmaker.com, the more times your letter will be included in the rituals! We really look forward to doing these rituals.


Please click on this button only if you desire to contribute to our ritual costs. Again, it is not necessary for you to contribute to be included. Please read above for details. By donating through clicking on this button, you are not purchasing anything. You are donating to help cover the costs of our materials used to conduct the Papa Alegba Ritual in June.
SIMPLE RITUAL TO HONOR PAPA ALEGBA
SET UP: To set up an altar to Papa Alegba, you can use things that you might already have or can obtain fairly easily. If you have a dollar store in your area, you are likely to be able to set up an altar to Papa for about $10-$15. His colors are red,white, and black. A red and white checkered table cloth makes a great altar cloth - a plastic one is fine. Get some red and white candles. For offerings get some crazy candy - especially any type of candy that looks like a toy or has a toy theme. You could also use things such as balloons or party type things. Our dollar store here even has little complete sets of stuff for a dollar! Remember that Papa likes fun things so set up a party for him. So use your imagination in setting up your altar space for Papa. You can search online for pictures of St. Anthony, St. Lazarus, and St. Peter and print them out and put them on your altar, too. You can print out his veve and use that. By the time you do all that, with very little money, you can make a really nice altar to Papa. You could also configure all of this in with your ritual pack if you have one and/or schedule doing this around doing Papa's special bath! (We would love to use your pictures of your altar to Papa Legba in our Spellmaker Community Pages, which are coming soon! If you would like to share your pictures, please send them to us at customerservice@spellmaker.com Please make sure no personal information is showing!)
DOING A RITUAL TO PAPA: Usually, of course, you would ask Papa to open the gate for the other lwa to pass through. You don't have to do that here - you can just ask him to come. Just say outloud, "Hey Papa Alegba, HEY, hear me. Open the gate and come through, Papa!"
You could ask him to bring some friends along, if you desire, but I suggest that for the best tribute to him, that you just invite him first and if your ritual progresses along and you feel that you are being guided to ask for more company, then ask him to "Open the Gate, Papa, and let the lwa come to us."
Once you start to feel that "Papa" vibe, show him his altar - tell him, "look, this is for you." Remember to speak to him like he is your guest and show him around, be proud of what you have done for him, no matter how humble you think it is. If it is a candle and a glass of water - be proud and offer it. Let him know it is for him.
Now you party! If you know songs to Papa, sing them. Play music. A quick search on the internet will bring you a surprising number of songs that are dedicated to, for, or about Papa Legba!! Play them for him. Dance, sing, have fun for a little while!
Here are the links to a few fun songs:
Talking Heads
Elton John
Widespread Panic
Look for more, you will definitely find them: In fact, you could make looking for and sharing with Papa, songs, videos, etc., that involve reference to him, part of your ritual!
After some fun time, spend some time getting serious with Papa. Ask him to help you with whatever you need help with: Help with communication with someone, clear your path to someone or something, etc. Tell him what you need! It is extremely important to then sit for a little while and listen. I highly recommend a pen and paper at this time - write down the random thoughts that come into your head or the whispers you hear in your ear. This is a time to accept the guidance from Papa!
Once you are done, and are ready to close down your ritual, thank him for coming. Ask him to please close the gate on his way out. ;-) If you are going to do the Papa Alegba's Clear Path™ Red and White bath, I highly recommend doing it after the ritual and then going straight to bed! Sweet dreams!!
The next day, if you can, leave three pennies at any crossroads (not in the middle of the street, folks, Papa does not want you to get run over - leave them at any corner of the crossroads). Any offerings you wish to bring outside can be left at a crossroads or under any tree.
It is really important to understand that a ritual can be casual or formal. If you have very little money to do this with, then do the best you can. Participation is more important than fancy offerings. Do it from the heart and you can never, ever go wrong!

AYIBOBO!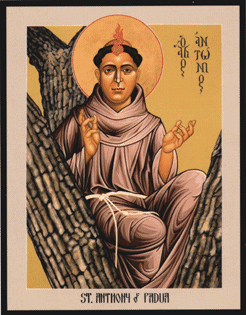 Usage of this website, our products and/or services, constitutes an agreement to our Terms of Service.

a>


Copyright,©,2007-present,Samantha and Matthew Corfield,Sheer Goddess®,The Voodoo Boutique®