The Ultimate Revenge Kit™ is the most powerful revenge kit on the market today. It contains all the ingredients to cast the most powerful revenge spell possible. And, YES, it is okay to seek revenge on those who have hurt you through no fault of your own! Sometimes we have to think that people need to stopped! They need to be made powerless to hurt others; fair retribution is not a bad thing.
Best of all, it allows you to customize and name the curse on the person upon whom you seek revenge. There is no pre-ordained curse, it is up to you to decide what fate your enemy meets. It is recommended that you do not ask for someone who has hurt you to be hurt more than you, but that they suffer EQUAL PAIN...that is FAIR, justified, and within the realm of "safe" revenge!
What we provide you with is a multitude of top notch, fully consecrated and charged ingredients: Regular candles, incense, oils, herbs, large candle, voodoo doll, and much, much more is contained within this kit. Additionally, complete spell instructions are included. We absolutely guarantee that you will not find a stronger, more authentic, more powerful, more complete, genuine New Orleans Voodoo revenge spell anywhere else. This is a complete nine day spell (meaning it will take you nine days, about an hour a day, to finish off your enemy in the manner you choose.)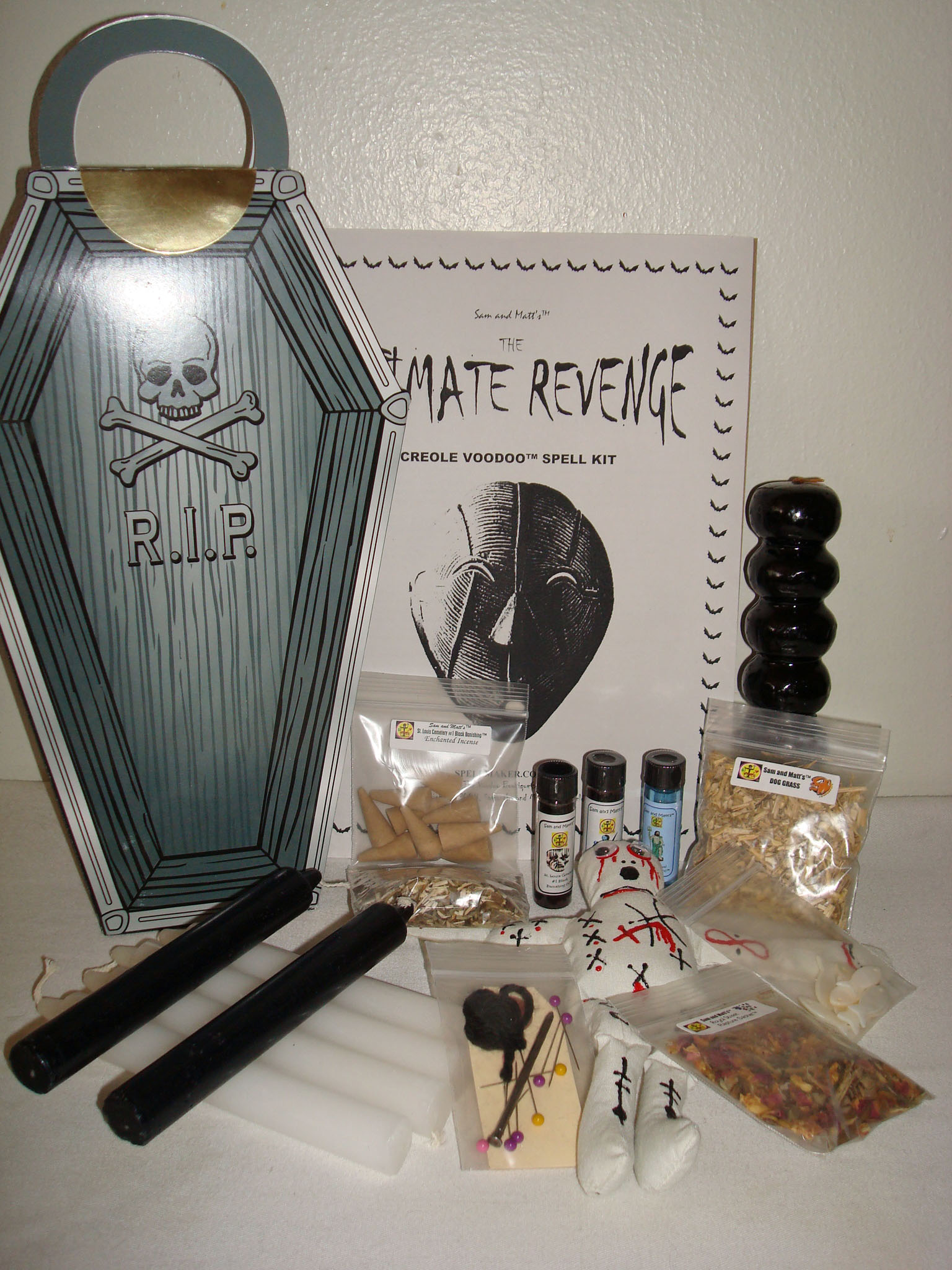 The kit also contains a complete white candle protection ritual for yourself, your home, and your family. But the truth is, you don't need protection if you are sure that you are JUSTIFIED in seeking this revenge. However, we decided to include a protection ritual for you, just in case you might accidently be seeking revenge on someone who doesn't deserve it. In this way, you are protected from any negativity of any kind. If you have questions about The Law of Return, The Law of Three, or spells backfiring, please click here.
The Ultimate Revenge Kit™ is serious. Please do not order it unless you are completely serious about getting revenge on your enemy AND you are justified in doing so. You must be 18 years old to receive this kit. This is available for dual casting with Rev. Corfield.



---
---
---




The New Orleans Chicken Foot Hex

Do you want to anonymously, physically send a curse to someone? Now you can! We will send an actual cursed chicken foot; yes, it is an actual dried chicken foot, just as shown above, to anyone you choose (in the USA only). They WILL NOT know it is coming from you. It will be sent completely anonymously. There will be no way to track this back to you! If you are trying to get the point across that they have screwed with the wrong person, receiving this in the mail will surely do that for them - not to mention scaring the hell out of them.

This is not a joke, not a novelty. This item will send the person an actual curse, though not as strong as something such as The Ultimate Revenge above. This is a medium level hex, meant to teach someone a lesson, scare them straight, and send them a strong message to quit being an ass. It will not cause physical harm to anyone.

How does it work? EASY: You order it. Mambo Sam hexes it in the person's name. You tell us where to send it. We send it. We don't use any of your information in sending the item. It is important to give us the name and proper address where you want it sent. This is an easy way to send a powerful message to someone that deserves it!

What do we send? The actual dried, hexed chicken foot, the paper that says they have been cursed, all in a black envelope.





---

---

---





JUST GO AWAY

Okay, not quite revenge, but these two spells don't quite fit anywhere else. Go Away Man™ and Go Away Woman™. Both of these spells are actually meant to just send someone away - basically unharmed, but getting them out of your sight, hair, and life! These spells aren't truly to hurt anyone, but rather just to get them away from you and yours. Go Away Man™ to get rid of an unsavory male; Go Away Woman™ to get rid of an unsavory female!






















---





















---

---

---






OLD NEW ORLEANS TRADITION™


VOODOO REVENGE DOLL KIT






Please be aware that a Revenge Doll is not a joke! The special ritual included with this doll makes it a very serious matter. This kit includes a special, handmade New Orleans Voodoo Revenge Doll, candles, incense, herbs, and more. Complete instructions are included. You choose what kind of curse you put on the person...use wisely. In doing this or any other kind of revenge spell, you should always be sure to ask that the person only be hurt as much as you were, NOT MORE! Choose between the Standard New Orleans Voodoo Revenge Doll kit and the Deluxe New Orleans Voodoo Revenge Doll kit (depending upon the severity of the situation).












---

---

---








Revenge, New Orleans Candle Magick style

Candle Magick Kits for Revenge, Death, Send Away, Keep Away



Single candle magick kits contain 1 candle,herbs,oil, and instructions.





Warning! Please note that you should always be justified in using BLACK candle magick. You should truly have been harmed by a person before using this kind of magick. Justification is your best protection! When using BROWN candle magick, this isn't as harmful and should be used if you want to send someone away, punish them for a wrongful deed, etc.

Each candle magick kit is consecrated in the New Orleans Voodoo tradition. Kits contain the 8 inch figure candle (candles are in the image of a human figure), herbs, and a 2 dram vial of our hand blended Voodoo oil.

(Candle magick kits are $19.95 each. They are also available in a 3 pack (see below) for Rev. Corfield's recommended triple strength "Body, Mind, Spirit" work. This allows you to do effective candle magick on a person and reach their three levels of existence "Body, Mind, and Spirit". Special instructions for this intensive candle work are included in the 3 pack. Order 3 pack below, and receive a discount and FREE incense pack to use to strengthen the candle magick work.)





---



Can't do your own candle work? Mambo Sam and Parran Matt now offer candle burning services done for you.






---





BLACK FEMALE IMAGE CANDLE MAGICK KIT: Contains 8 inch black female figure candle and appropriate accessories (herbs, oil, instructions) for wishing the ultimate harm to a female.













---





BLACK MALE IMAGE CANDLE MAGICK KIT: Contains 8 inch black male figure candle and appropriate accessories (herbs, oils, instructions) for wishing the ultimate harm to a male.












---





NEW ORLEANS FAMOUS BLACK MUMMY CANDLE Contains one black 7 inch mummy candle and appropriate accessories for casting the famous Black Mummy candle spell. The Black Mummy candle spell's possibilities are almost endless and this candle magick is appropriate for any purpose in which you wish to send darkness, despair and bad luck. Destroy communication between two people - cause them to argue, fight, etc.










---





BROWN FEMALE IMAGE CANDLE MAGICK KIT: Contains 8 inch brown female figure candle and appropriate accessories (herbs, oils, instructions) for sending a female away, causing illness, inability to function, etc.













---





BROWN MALE IMAGE CANDLE MAGICK KIT: Contains 8 inch brown male figure candle and appropriate accessories (herbs, oil, instructions) for sending a male away, causing illness, inability to function, etc.













---





BLACK 7 KNOB EVIL WISHING CANDLE: (Contains a 7 KNOB black candle, oil, herbs, instructions) Burn down one knob at a time to send an evil wish to someone.













---

---

---





COSMIC VOODOO™ PACKS




OILS from our own magickal recipes! Three different .50 (1/2) ounce bottles of consecrated oil in each package, plus instructions.

COSMIC VOODOO™ REVENGE OILS PACK:
Oils to help you banish your enemies, send them away, cause them to suffer losses. Use wisely, please.







---




INCENSE helps set the mood for spell casting or can be used just by itself. Use with your candle to set the mood in your endeavor. For serious magick, it is not a substitute for a complete spell or spell kit. Each pack contains 30 consecrated magick incense cones, a FREE incense burner, and complete instructions.

ST. LOUIS CEMETERY #1 BLACK BANISHING™ INCENSE PACK:
Send that creep away!






---

---

---






Use to send your enemies or unwanted people away from you or away from someone else. This is NOT a death or hexing potion.















HEX-O-GRAM™




Extremely powerful and potent hexing potion. Use only on your true enemies. Do not take this potion lightly. Be very careful!

























PRIVACY POLICY: www.spellmaker.com, The Voodoo Boutique, Sheer Goddess and all related subsidiaries do NOT collect, sell, or use your information for any reason other than the conduction of normal business. We only use your information in the way that you allow it and only when you have specifically allowed for it, such as opting in for things like our newsletters. Your information is never shared with outside parties for any reason whatsoever. Our work and the usage of our services is extremely confidential in nature. Your privacy will always be respected and protected.




Copyright © 1995-present, Samantha and Matthew Corfield, The Voodoo Boutique ®.


Usage of this website constitutes an agreement to our Terms of Service.

This page is for and in honor of Papa LaBas, Alegba LaGrille ™.