After a very long search, we are excited to offer our brand new talismans (charms,amulets)! Each of these new talismans is prepared and consecrated to a particular Vodou spirit (Les Lois - the lwa) to team the power of the charm itself with the power of the spirit of the lwa. These double power charms will become triple power charms once you receive them and do the ritual that will be included in your package.
These new charms replace the ones we used to carry. While those charms were wonderful in and of themselves, these charms will be more practical for most people and will be as, or more, powerful than the prior charms! These charms are stainless steel and will withstand all the wear you can give them. These truly are meant to last a lifetime; they will not turn colors, rub off on you, etc. You will be given a necklace to put them on, but you can use any chain you desire.
These new charms are also different in that you can wear them without raising much suspicion as to what they are. The mostly just look like "interesting" jewelry, but are so much more! Because of the look of these new charms, you can also empower them and give them as gifts to those you care about without them really realizing the power of the charm. This is great for those you love and want to protect or help, but know that they won't really accept something like a Voodoo charm!
We have also added a new line of consecrated earrings and bracelets to enhance your magickal powers!
For those of you doing magickal practices, these charms should be considered an enhancement to certain situations and NOT a replacement for other magickal or mundane work. If your situation is serious you should also consider a spell kit or other magickal process to help you in your situation.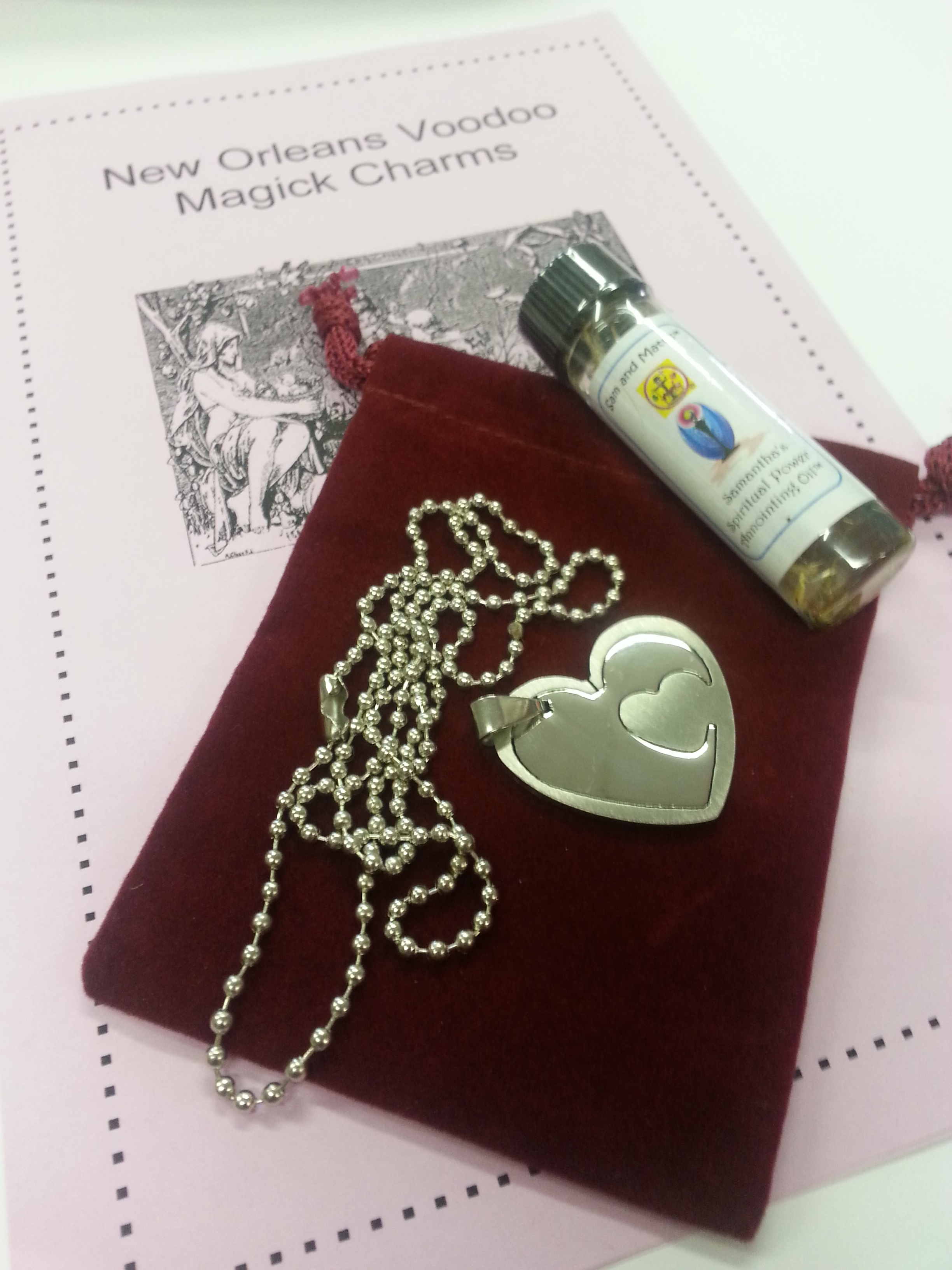 Each charm package is a kit which will contain:

The heavy-duty stainless steel charm of your choice. (Please note, styles of charms will vary from time to time as we use a small-batch designer. This means the charm styles will change over time, however, the empowerment of the charm remains the same AND the quality will be the same.)
Personal Blessing and Consecration of the Charm to the Lwa of the Charm by Rev. Samantha Corfield.
Complete written instructions on how to use your charm.
Carrying pouch. (Each charm may be worn or carried.)
Bottle of magick charm annointing oil.
Stainless Steel and/or Leather necklace to wear the charm on.
The entire package is only $24.95!
Please note: Applies to charms (necklaces) only; earrings and bracelets are consecrated, but sold alone.





Pictures are slightly enlarged for viewing detail. Actual charm size varies between 1.5-2.5 inches depending on the charm. Please note: The styles of charms may vary slightly from time to time! Pictures are for reference.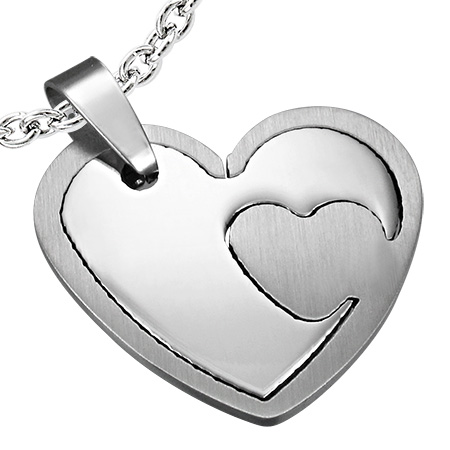 Erzulie Freda's Love Charm: Temporarily out of stock.
This beautiful heart has been dedicated to Vodou Love Goddess Erzulie Freda to help manifest, strengthen, and provide love of all kinds to all situations.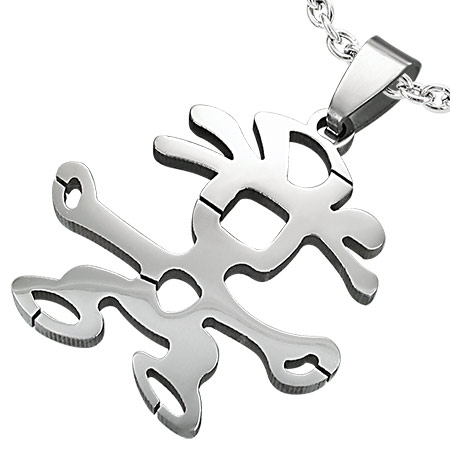 Papa Alegba's Lucky Charm:
Papa Legba - the man at the crossroads! This charm is his representation of an open-armed man welcoming you and taking you in to his realm; opening doors, clearing paths, bringing general luck and inspiration.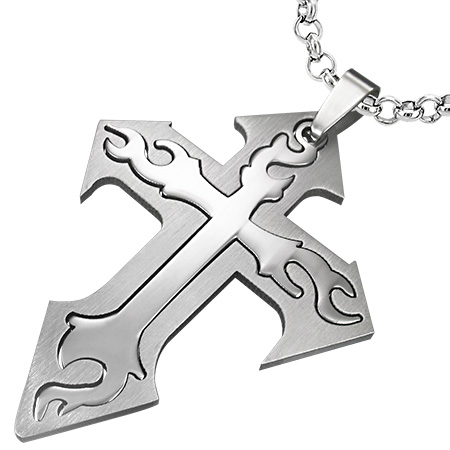 The Cross of Baron Samedi:
This "unlocking" cross (this is a cross inside a cross) represents the power of Baron Samedi in this world and the next. Perfect for protection,spiritual enlightenment,serving the Baron,connecting with your ancestors,matters of life and death,and all things related to the Baron.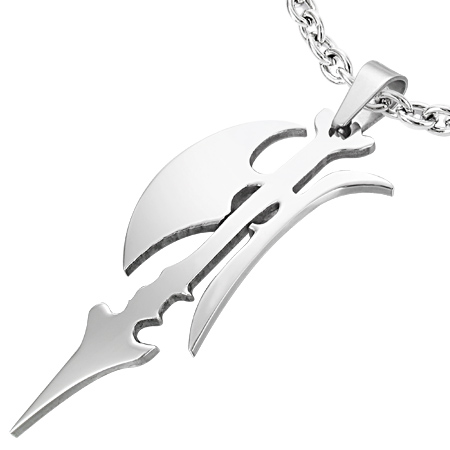 TEMPORARILY OUT OF STOCK Ogoun Feraille's Physical Protection Charm:
This axe of Ogoun is consecrated for your physical protection. Ogoun is known for his fierce protection and offering himself as your guardian from harm. (This is for physical protection. Please see below if you need evil eye/spiritual protection.)
LaSirene and Agwe Spiritual Protection Charm: Temporarily out of stock.
Protect yourself from evil intentions, bad thoughts, negative magick, evil eye, black magick,etc.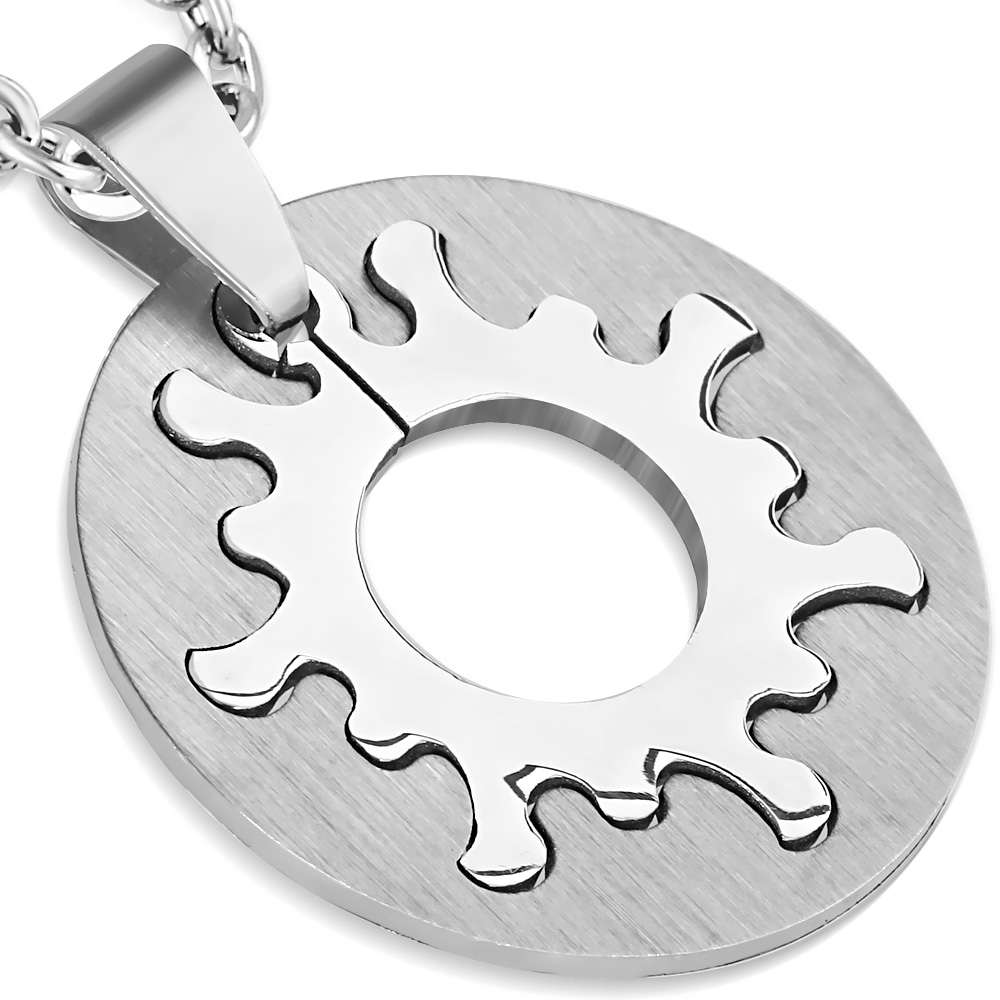 TEMPORARILY OUT OF STOCKSobo's Money Charm:
As the famous Vodou song goes, "Sobo, my lwa, I am assured!" The lwa Sobo imbues this charm with his abilities to help us find,make,and bring more money into our lives.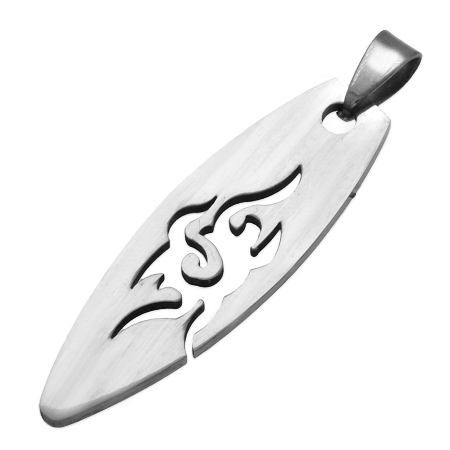 Damballah's Conjuration of Powers Charm
The design within this charm is a representation of Damballah's powerful abilities to enhance and strengthen magick - to help you call upon the power of your spirit and the Vodou spirits, to make the most powerful magick possible from within you.
VODOU SPIRIT EARRINGS
We are very excited to offer these new items. These beautiful and sturdy stainless steel earrings have been consecrated with the power of certain Vodou spirits(the lwa) to help you with many matters of every day life! The earrings are lovely on their own, made from hypoallergenic stainless steel, and meant to last! Mambo Sam consecrates each pair and empowers them with the spirit of our Vodou lwa. Wear them with purpose and spirit! At this time, these are introductory items and our supply is limited. However, we will be planning on getting more as well as adding in the availability of more lwa. (As with our other adjunct products, these earrings are not meant to replace stronger, more powerful work such as spell kits. However, they are meant to be used as something to help you in your day-to-day life to call upon the Vodou spirits.)

(Please note, styles of earrings will vary from time to time as we use a small-batch designer. This means the earrings styles will change over time, however, the empowerment of the charm remains the same AND the quality will be the same.)
Please note that the pictures are enlarged to show detail.
The earrings vary in size but are rather small and unobtrusive,
measuring approximately .78-.100 cm x .65-.75 cm.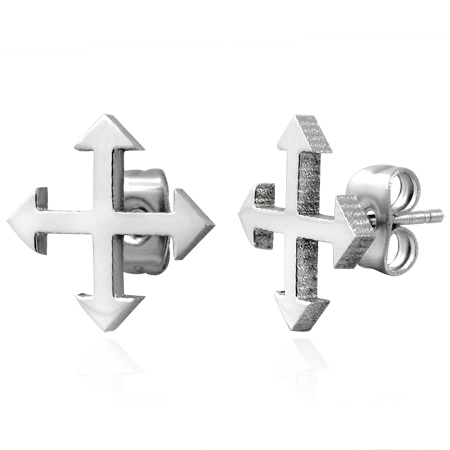 Papa Legba's Crossroads of Life™ Earrings
Representing the many directions that life can take you, these beautiful stainless steel earrings call upon Papa Legba to help you with decision making, help with all the crossroads you meet in your life, protection, and the many blessings of Papa Legba.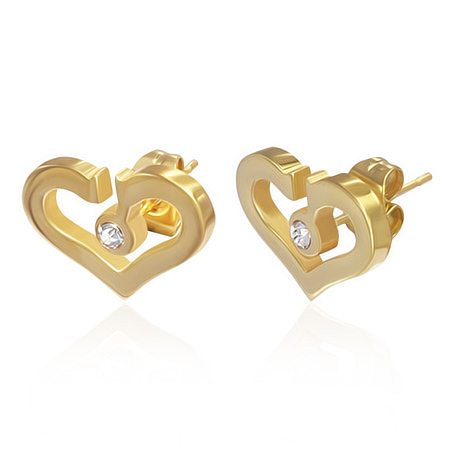 Erzulie Freda's Love of your Life™ Earrings Temporarily out of stock.

Delicate, beautiful earrings dedicated to Vodou Love Goddess, Erzulie Freda! Wear for romance, love, attraction, and general feelings of enhanced beauty and magnetism!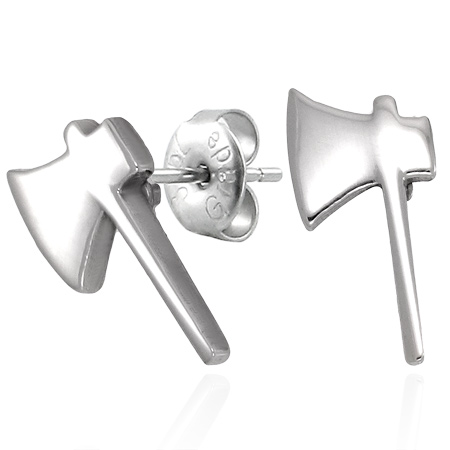 Ogoun's Power Axe™ Earrings
The name might say it all! These beautiful stainless steel earrings are dedicated to our favorite powerhouse - Ogoun! Wear these when you need to be at your best, are in fear, need self-confidence, protection, or a boost in your own personal power.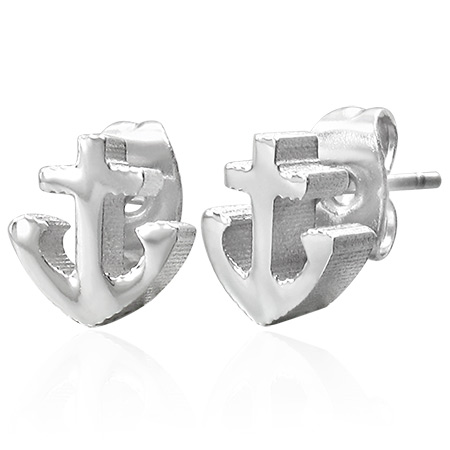 Agwe's Anchor Me™ Earrings
These beautiful stainless steel anchor earrings are dedicated to the protector of the seas and master of strategy, Agwe. Mambo Sam also added in a dedication to Agwe's beautiful wife, LaSirene, as in our New Orleans Voodoo tradition we always honor them together. Wear these when you need protection,grounding,help with finances, wisdom that involves strategy, and overall love and security.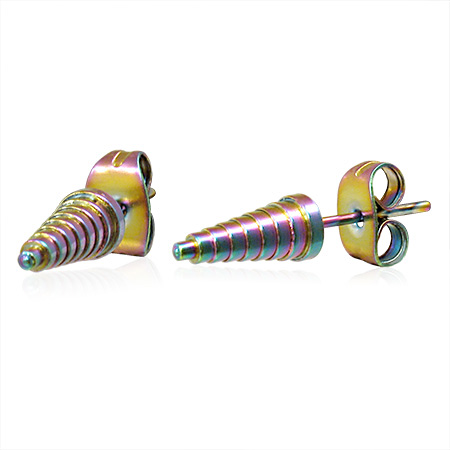 Damballah and Ayida Ouedo's Wisdom of Life™ Earrings
The coiling pattern represents powerful Vodou Spirit Damballah while the rainbow pattern represents his wife, Ayida Ouedo! Wear these earrings when you need all of your resources, wisdom, and courage to face a situation. Also, this ancient couple is often considered to the be seat of all creation, so you can also use these to bring forth the creation of your goals.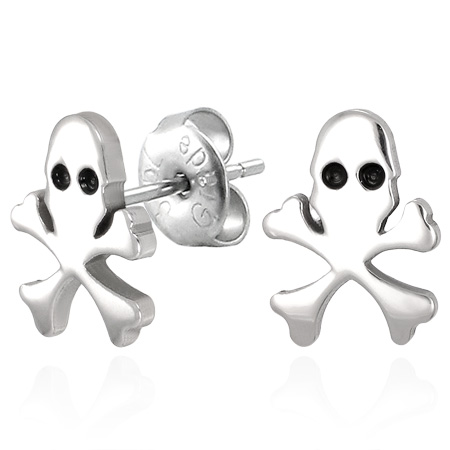 Baron Samedi's Pass Through™ Earrings
Dedicated to the lwa who oversees both Life and death, Baron Samedi, these earrings are imbued with the power to help you "pass through" situations. Ask the Baron for help with almost any situation, but especially those that need the special power of "burying" problems and "resurrecting" the good things in your life! If you need the blessings of Life and to put to "Death" your problems - these earrings are for you.
VODOU SPIRIT BRACELETS
These are very wonderful bracelets that Mambo Sam has consecrated to the lwa described below. We are hopeful for more to come as she continues to search for the appropriate type of charm jewelry for our Sacred Lwa.
The bracelets are very sturdy - leather,rubber, and stainless steel.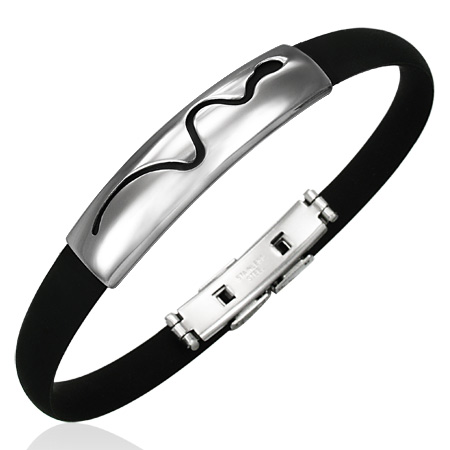 Damballah's Sacred Bracelet: For courage, wisdom, psychic powers,learning,and honoring Damballah.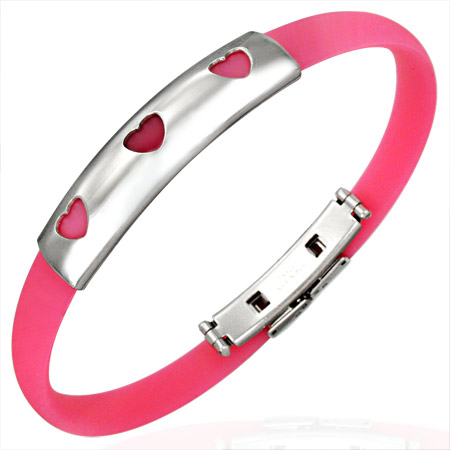 ERZULIE FREDA'S BRACELET: For love, beauty, feminine energy, and honoring Erzulie.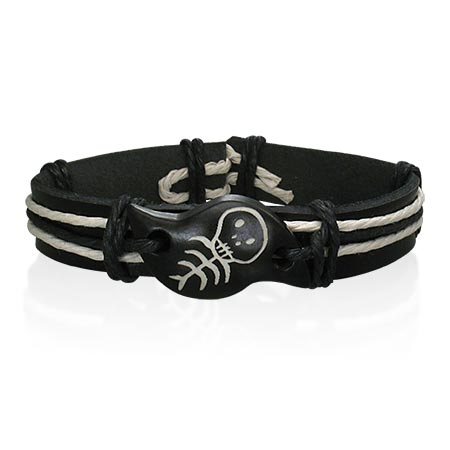 Baron Samedi's Sacred Bracelet: A little different than our other bracelets - this one is made of leather and bone - perfect for honoring The Baron!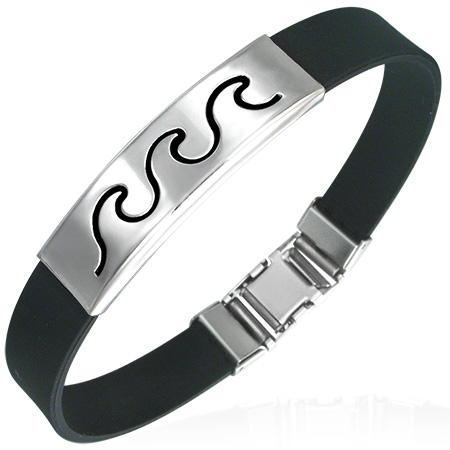 LaSirene and Agwe Sacred Bracelet: For riches, wisdom,mastery over situations,strengthening the relationship of a couple,protection, strategy, and honoring LaSirene and Agwe.

Papa Legba's Sacred Bracelet: For opening doors, clearing the path, luck, decision making, etc., and honoring Papa Legba.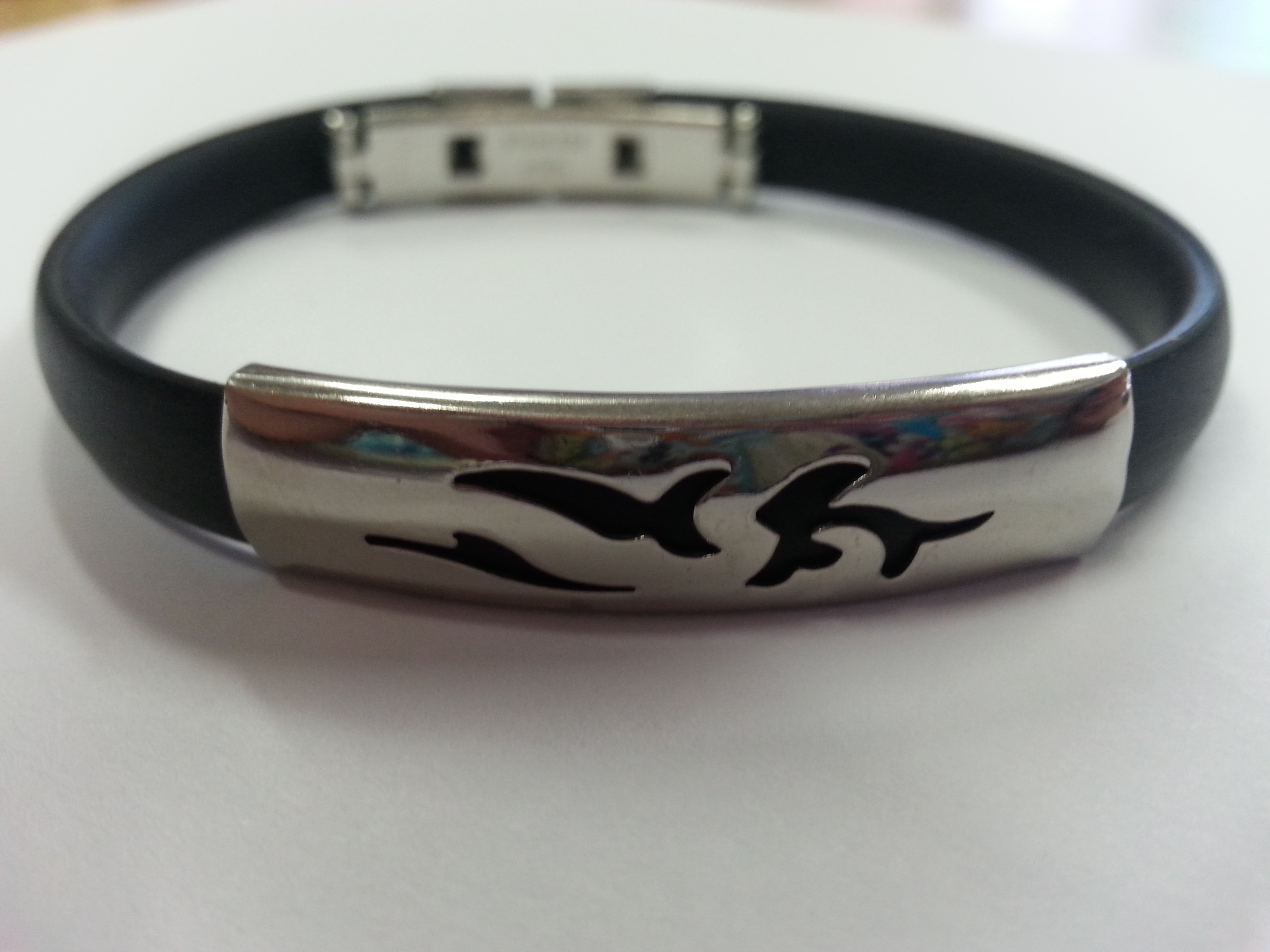 Ogoun's Sacred Bracelet: For courage, power, success,etc.,and honoring Ogoun.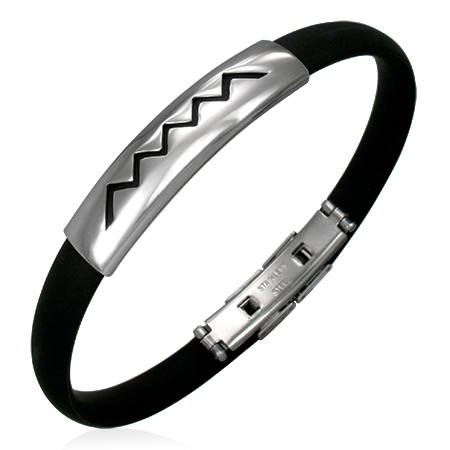 Sobo and Bade Sacred Bracelet: The brother spirits of thunder and lightning! They bring power, money, safety, and assurance!

Join us on our free, fun, and informative Forum!

Smartphone users, please scan this QR code for the Spellmaker Mobile Site!