SPELLMAKER.COM

BASICS:

CASTING SERVICE:

OUR PRODUCTS:

INFO / FAQS:

MISCELLANEOUS:

Rev. Samantha Corfield's
SPELLMAKER.COM
MAKE A LOVE WISH ON MARIE LAVEAU'S TOMB
How to make a wish on Marie Laveau's* tomb:

Download the picture below to your hard drive (or print it out).
Open the picture in any paint program you have (not necessary if you have printed it out.)
Somewhere on the tomb, make three red X's side by side (XXX).
Knock on the picture three times.
Ask Marie Laveau outloud to grant your love wish. (Example: "Beautiful Marie Laveau, love queen of New Orleans, please grant my wish that Johnny love me.")
Exit your paint program without saving the picture OR if you printed the picture, fold it up (picture inward) and burn it or throw it in running water.
The same day that you make a wish, make an offering of fruit, flowers, or candy to Marie Laveau by leaving them in a cemetary.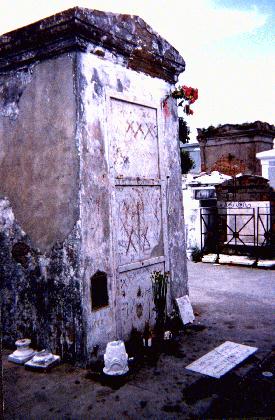 Photograph copyright © 1998-present, Samantha Corfield

Who is Marie Laveau?
Answer: Marie Laveau is the most well known American voodoo priestess to have lived to date. She is buried at St. Louis Cemetery #1 in New Orleans and is credited with almost single-handedly being responsible for the flourish of Voodoo in America today. Her unique powers caused her to be sought out by women and men of wealth and power in New Orleans, seeking her special brand of Voodoo magick. Today, her tomb is a focal point of special wishes and offerings by New Orleanians swearing that she still grants her favors even today. She is most famous for granting love wishes.

a>